Consul-General of Thailand in Osaka meets with the Governor of Shiga Prefecture
Consul-General of Thailand in Osaka meets with the Governor of Shiga Prefecture
2021/06/21
On 11 June 2021, Consul-General Krit Tankanarat met with Governor Taizo Mikazuki of Shiga Prefecture to exchange views on the relations and future cooperation between Thailand and Shiga Prefecture. The Consul-General together with officials of the Consulate-General also visited Lake Biwa Museum, Ohmi Environmental Plaza and Konanchubu water treatment plant to learn about the Prefecture's expertise in water resources management and environment protection initiatives.
During the meeting with the Governor of Shiga, both sides highlighted events that helped intensify the close ties between Thailand and Shiga, particularly the Governor's visits to Thailand in 2016 and 2017 to promote the Prefecture, his initiative to invite Thai scholar to Shiga Prefecture to introduce Thailand to local business persons, as well as the Consulate-General's project leading Japanese expert delegation, including officials from Shiga Prefecture, to Thailand to exchange their experiences on water resources management with officials of Trat and Udonthani Provinces in 2016. Looking ahead, both sides agreed to further promote cooperation in the fields of economic, water resources management and tourism once the COVID-19 situation subsides.
On the same day, the Consul-General visited Lake Biwa Museum, Konanchubu Water Treatment Plant and Ohmi Environmental Plaza, where they have been informed about the Prefecture's experiences in water environment protection of Lake Biwa which is vital to the livelihood of peoples in the Kansai region. They have also been briefed by leading local businesses about new water related technologies such as water quality testing device and pipeline renewal method.
This visit of the Consulate-General provided an opportunity for both sides to further deepen cooperation as well as seek experiences and best practices of Shiga Prefecture, particularly in water resources management which can be applied to Thailand to ensure sustainable water supply and environmental security.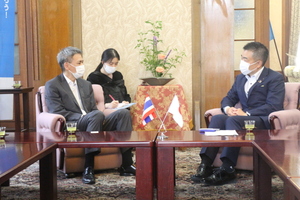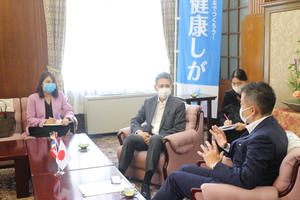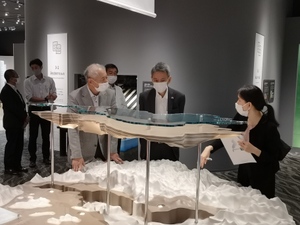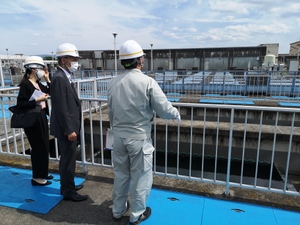 « Consul-General of Thailand in Osaka led Team Thailand on a Study Vis... | Consul-General of Thailand in Osaka witnessed the Signing Ceremon... »