The Royal Thai Consulate-General in Osaka presented financial support to the Thai Club of Japan
The Royal Thai Consulate-General in Osaka presented financial support to the Thai Club of Japan
2019/07/22
On 11 July 2019, Mr. Kenji Terajima, the Director of the Thai Club of Japan paid a courtesy call on Mr. Krit Tankanarat, Consul-General of Thailand in Osaka, to introduce himself and the Club, as well as to formally invite the Consul-General to the annual seminar on Thailand, incorporating
aspects of Thai history, society, culture, tradition and way of life, to be held on 26 October 2019.
The Thai Club of Japan was established on 1990 as the network association of individuals who are "Friends of Thailand". Activities of the Club include teaching of Thai language, translation of Thai history, seminar on Thailand, educational visits to Thailand and Thai historical sites in Japan, as well as the exchange between Thai and Japanese schools. On this occasion, the Consul-General presented the financial support of 100,000 yen to support the activities of the Club and the upcoming Seminar, for these activities assist in bridging Thai - Japanese relations closer together.
***************************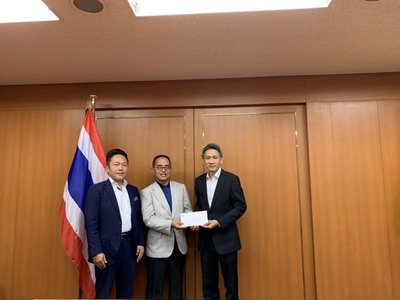 « The Royal Thai Consulate - General in Osaka presented financial sup... | Consul-General of Thailand paid a courtesy call on Mayor of Osaka City »